HOLD UGANDA
Read Our LEAP Story
Based Organization operating in Bugulumbya Sub-county Kamuli District, Eastern Uganda. The organization aims to empower vulnerable and needy communities to become self reliant and to be able to effectively participate in their own community development initiatives. HOLD Uganda targets women, youths, orphans and vulnerable children in the program areas of health improvement and economic development. HOLD Uganda believes that working towards gender equality and women's empowerment in a rural setting is a key pathway to achieving sustainable development. HOLD Uganda implements projects that promote child education and nutrition, household income improvement, Women and Youth Economic empowerment through vocational skills and micro credit, health promotion, provision clean safe water, promotion of effective sanitation and hygiene practices as well as Prevention of Gender Based Violence (GBV).
Establishment of HOLD Uganda-Designs by ZOE enterprise in Uganda.
This is an enterprise that is responding directly to the vocational and business needs of the rural youths and women. It will be a learning and coaching centre for pillow tailoring and design for LEAP Trainees. Proceeds from this enterprise are directly going to support rural adolescent girls to acquire sanitary towels/pads which are currently a big challenge affecting girl's education in Uganda.
My LEAP Encounter and leadership transformation at HOLD Uganda and Communities
"If you have not attended LEAP training you are incomplete, it doesn't matter how many other qualifications that you have attained, LEAP is unique and it's one size for all whether illiterate or literate, villager or town dweller…you need LEAP knowledge"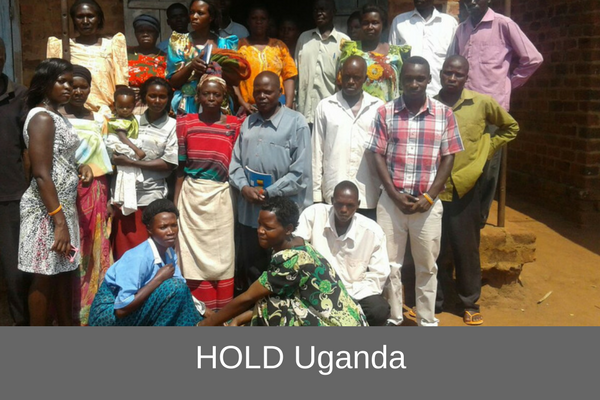 Fundrasing
$10,000 loan to launch the business in Uganda. Our Uganda Team is in
the process of launching their D by Z/ Hold Uganda business where they will make and sell pillows.
The manufacturing building is located just a walk away from the nearby Hospital where sleeping pillows
are not provided at check in. Profits from the sale of pillows and other products from this business will be
used by HOLD Uganda to acquire and give out menstrual sanitary napkins to young adolescent girls in primary schools in the Kamuli district of Uganda. As the business expands, our aim is to support primary schools to establish private bathrooms where young girls can comfortably change and wash their sanitary products. HOLD Uganda conducted an assessment in Kamuli district to understand why girls drop out of school when they reach upper primary, findings raveled that majority (80%) of girls drop out of school when they start menstruating due to lack of training in menstrual hygiene management and lack of menstrual materials and appropriate sanitation facilities at school. Your support will help fuel tremendous change in Uganda!